And the crazy days continue. This one wasn't so much because of Fanta Man or Bed Fourteen, although both are still here and both are still problematic behaviour-wise, but more because we had a rather prestigious visitor to the ship.
Princess Anne
came and spent some time on the Africa Mercy this morning.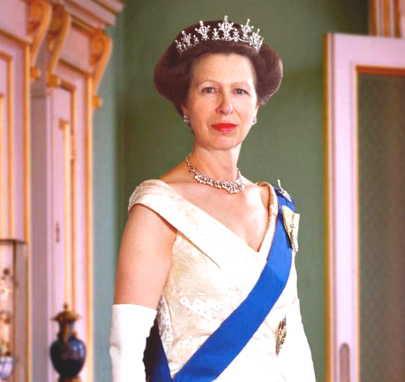 The place has been buzzing with news of nothing else for the past few days. The hospital was a flurry of activity right up until the announcement of her arrival as day volunteers scrubbed away errant scuff marks on the walls and patients were tucked firmly into their beds. A few people (Brits, for the most part; my accent isn't nearly posh enough) were chosen as representatives of the hospital and donned crisp navy scrubs for the occasion. (This was a matter of much hilarity among the rest of us, who were somehow less classy in royal blue.)
We spent the morning practicing our curtseys, debating whether or not Americans should do so, and deciding which patients would be appropriate for the princess to meet. Unsurprisingly, Fanta Man was not on that list. In fact, we figured it would be best just to keep her off his side of the ward altogether, since his chats with the soap dispenser have now extended to include the water filter, too. It's just too hard to know how he would react to a real, live princess given his frustration with inanimate objects.
When she did arrive, Princess Anne was lovely. She met the two patients we had picked out for her, and then just kept right on going around that side of the ward and met all the rest of them, too. I got trapped in a corner, and so when she got around to the lady in Bed Twelve, I was the one the princess turned to when she asked about the patient's surgery.
I got to talk to the princess, bright blue scrubs and all. I've done come crazy things here on this ship, but explaining oro-nasal fistula surgery to the daughter of the Queen of England? That's right up there with the rest of them.
We herded her out before she had a chance to ask about beds one through five, and the visit can therefore be called a success. Fanta Man drank the rest of his purple Fanta in celebration, and Bed Fourteen (who is now in one of the smaller rooms off the ICU) slept through the entire thing.
The whole thing, having a royal visitor in our floating world, just seemed so surreal. Kirstie, the Ward Supervisor, put it really well at a nurse meeting this afternoon.
I know we do this all the time, but as I was explaining to her that we just took a big tumor off this man's face, I realize how incredible it really is.
All of this, Fanta Man and Bed Fourteen and changing bandages and taking temperatures, all of it is part of something so much bigger than ourselves, and we can't lose sight of this.
I heard a voice thunder from the Throne: "Look! Look! God has moved into the neighborhood, making his home with men and women! They're his people, he's their God. He'll wipe every tear from their eyes. Death is gone for good—tears gone, crying gone, pain gone—all the first order of things gone." The Enthroned continued, "Look! I'm making everything new. (Revelation 21:3-4, The Message)
He is making everything new, and we are a part of it every single day. Whether we're performing for princesses or sitting in the dark at the bedside of a confused old man, we are part of the making new of all things.